Blue Derby & Blue Tier Trails
Derby has fast become one of the world's premier mountain biking destinations hosting the Enduro World Series in 2017 and 2019. The Blue Derby trail network is located right in the township of Derby and just 500 metres from the MADMTB shop. Built by World Trail there are over 100km of single track, one-way trails they offer a diverse range of trails from green (Beginner/Novice) to double black (Intermediate - Advanced) all in spectacular Tasmanian wilderness, steeped in tin mining history. The stacked loop network offers adventure trails with flowy fast gravity action, adrenaline jump lines and enduro trails to explore, including a host of brand new trails.
Beginner/Kids (green) from Derby
* Riverside - a warmup trail that links to the centre of town and other trails * Lake Derby - 5km Derby's easiest trail * Chain Gang - 300m great for the kids, this is a easy learning base trail close to town
Confident beginner/Novice (green) from Derby
* Rusty Crusty - an undulating trail that crosses the Cascade River twice * Axehead - a climbing trail to the upper trail network, passing historic minining features, 'twisties' section of track and Trouty Falls * Berms & Ferns - a roller coaster of berms, check out Monument with great views over Derby * Sawtooth - an undulating return link to the lower trails * Relics - mostly descending, an easire alternative to Howler * Derby Tunnel - an exhilerating ride through a 350 metre old mining tunnel
Easy (green) trails from Weldborough Hotel
* Little Chook - is an easy 1km ride from the pub. Little Chook is a 2km fun flowy ride through stunning sub-alpine forest * Option: after riding Little Chook you can ride the last 4km of Big Chook (note this is a blue trail)
Intermediate & Advanced Rider Trails
Our Black Stump shuttles take you to the heart of the Blue Derby trail network with multiple trail head options. Black Stump shuttle sessions take out the climb and offer you a variety of blue and black flowy fast gravity action, adrenaline jump lines and adventure trails, including three brand new trails.
* Flickity Sticks * Kingswall upper & lower * Return to Sender * Krushka's * Dam Busters * Rattler * Howler
* Detonate * Trouty * Roxanne * Blackstump * Shearpin * 23 Stitches * Deadly Bugger * Air Ya Garn
Blue Tier Wilderness & Atlas Trails
The ultimate all day ride adventure begins here. Ride the stunning Blue Tier trail through remote Tasmanian Wilderness finishing with the epic Big Chook descent. Take a relaxing break for lunch at the historic Weldborough Hotel, then ride Atlas a technical flowing trail into Dambusters, one of the fastest descents in Blue Derby, or take options to ride Trouty! arriving back into Derby mid afternoon.
Blue Tier Wilderness Trail - 22km
* Shuttle Derby to Blue Tier trail head - 1 hour drive time * Ride the Blue Tier trail to Weldborough, ride time approx 1.5 - 2 hours * Relax and refuel at the historic Weldborough pub
*
Shuttle Weldborough to Atlas trail head * Ride the Atlas trail to Devilwolf, ride time approx 1 - 1.5 hours * Ride option: Black Dragon (black), if you dare! * Ride option: Take the link to ride the Krushka's descent or the insane double black diamond trail of Trouty * Finishing via the Derby network with multiple trail options
St Helens & Bay of Fires trails
The St Helens Trail Network and Bay of Fires Trail 42km Epic offer a range of experiences for all ages and abilities and will have the most important MTB ingredient, FLOW.
Bay of Fires 42km Epic Adventure
Spanning approximately 42 kilometres this will be an epic journey from the mountain tops to the beach. Immerse yourself through the changing environments from alpine forests to coastal heath. The Bay of Fires trail will start in the Blue Tier Forest Reserve at Poimena, which is also the start of the current Blue Tier trail. The trail is a combination of mtb single track, existing trails, logging and access tracks and will finish at Swimcart Beach, a 15 minute drive from St Helens. Come prepared as you will be riding through remote Tasmanian wildeness there are no facilities, pubs or cafes! There are considerable climbing sections which requires a good level of fitness (or ebike!) it won't be easy, but it will reward you with roller-coaster descents, waterfalls, creeks and stunning Tasmanian scenery .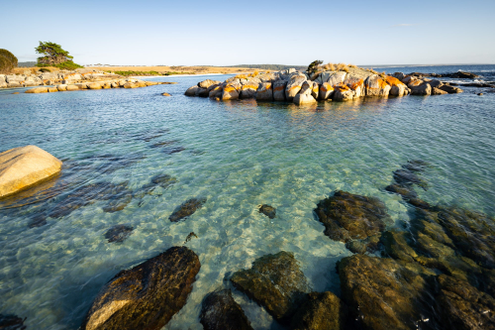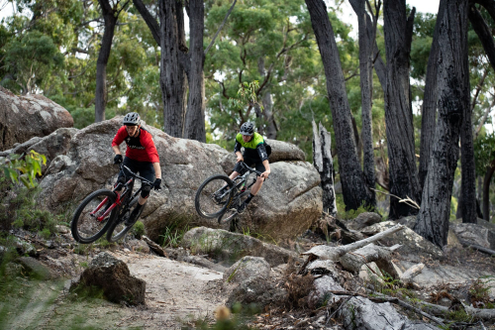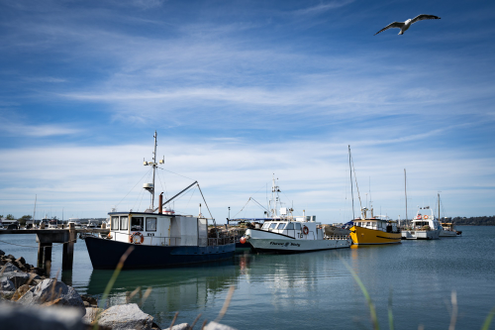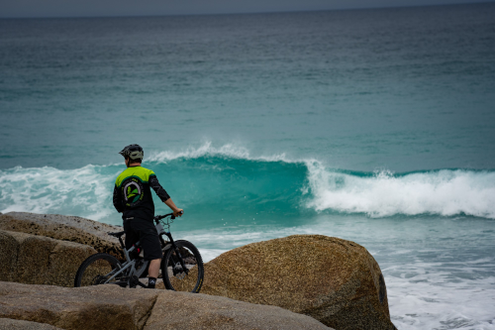 The St Helens mountain bike trails will feature a 66 kilometre stacked loop network just south of St Helens, with a trail link to the town centre. With 10 trail loops of varying length and skill level, the trail network has three descents and one shared use trail. The trails offer a range of experiences suited to the beginner, the family and the mountain bike enthusiast. Each trail will offer something different and will lead you to hidden and secret spots. Enjoy the freedom and experience of being in nature with stunning views of Georges Bay and St Helens.
Facilities at the trailhead will include toilets, outdoor furniture, bike wash-down station and more all in a tranquil bush setting.